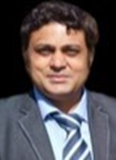 Prof. Shamik Tiwari
School of Computer Science, UPES, Dehradun, India
Profile: Dr. Shamik Tiwari is an experienced teaching and research professor with a strong background of twenty years in computer vision, data science, predictive and statistical modeling, machine learning, and deep learning. Throughout his career, he has demonstrated a deep passion for understanding and solving complex problems in these fields, and he is committed to pushing the boundaries of knowledge through research and sharing his expertise with the next generation of students. In the realm of computer vision, he has extensive knowledge of image processing techniques, object detection, recognition, and medical informatics algorithms. He has worked on various projects involving computer vision applications such as Alzheimer's disease detection, Monkeypox detection, Diabetic Retinopathy Screening, facial recognition, object segmentation, and scene understanding. His research contributions have been published in reputable conferences and journals, showcasing his ability to contribute to the advancement of this field.
Title: Unleashing the Power of Generative AI: Journey towards a Transformed Future
Abstract: Generative Artificial Intelligence (AI) has emerged as a groundbreaking technology that is revolutionizing the boundaries of human creativity and innovation. This speech will take the audience on a captivating journey through the evolution, capabilities, and potential of generative AI, showcasing its transformative impact across various domains.The keynote will commence by providing an overview of generative AI and its fundamental principles. We will explore how generative models, such as generative adversarial networks (GANs) and variational autoencoders (VAEs), enable machines to learn from vast amounts of data and generate novel and realistic outputs. By comprehending the underlying architecture and training methodologies, the audience will gain insight into the fascinating world of generative AI.