- Tianjin, China -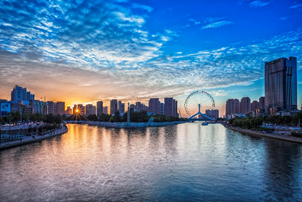 Tianjin is a famous historical and cultural city in China, located in the northern part of North China Plain, close to Bohai Sea and Beijing-Tianjin-Hebei economic circle. It is also one of the top ten best tourist cities in China, with the reputation of "ten miles of Tianjin".
Tianjin is a multi-ethnic and multi-cultural city with rich history and culture. It is characterized by seashore, with unique natural scenery and beautiful cultural features. Located in a convenient geographical location, it has become a resort integrating industrial and commercial resources, financial services, trade facilitation, international travel and leisure.

There are many ancient and magical monuments in Tianjin, such as the Ming and Qing Dynasties in Nankai District, the Zhangling Cemetery and the magnificent Star Street. Nine Dragon Wall built by the legendary Yang Gong House; And the legendary "Nine Dragons Wall" created by Yang Gong; And that magnificent "five avenue", all of which are an indispensable part of local folk culture in Tianjin. In addition, Tianjin has a variety of unique cultural scenery; For example, the sea garden, money circulation street, school palace and shadow play have formed this dazzling and charming city.